It was my second year on the balcony in the Enterprise Zone of Showcase Ireland with support from Fingal Local Enterprise Office and the show far exceeded my expectations 🙂 In the weeks leading up the the show, you don't really have time to wonder how you will actually get on – designing brochures, posters, point of sale materials etc. are all priority. It is becoming a tradition that my Dad picks me up early on the Friday before the show begins, we spend time carefully wrapping the display cabinets and slowly drive into the RDS over the ramps of Bath Avenue praying that the cabinets don't smash! It is only when the display cabinets are at the stand that the nerves really start to kick in!
It was great to have the opportunity on the opening morning of the show to present the Tánaiste Joan Burton with a piece from my Growing Home Collection. Also pictured is Paul Reid, CEO of Fingal County Council.
It was also great to get positive feedback on my new 1916 Collection. If you align the names of the signatories of the Proclamation (MacDiarmada, Pearse, Ceannt, Plunkett, Clarke, Connolly and MacDonagh) in just the right way, the word "Ireland" is revealed. Available as a pendant, cufflinks and a tie/lapel-pin.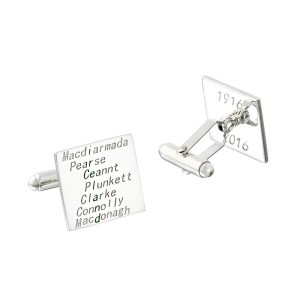 The buzz this year was very different to last year. But there's nothing quite like the sound of business being transacted – it's just the best sound ever! It was lovely to see the familiar faces of some existing clients as well as new faces who will be stocking my work soon. Details to be announced shortly…..
Finally, I'd like to say a big thanks to everybody who visited my stand at Showcase Ireland. Míle buíochas.