I've been meaning to write about our family trip to Ennistymon in County Clare for ages now but the preparation for the National Crafts Fair in the RDS before Christmas was quickly upon me followed by preparing for Showcase (tradeshow) in the middle of January and then fulfilling orders from Showcase! The amazing Irish landscape has seriously inspired me to design new jewellery collections.
We went to Ennistymon over the school mid-term break back in November 2016(!!!) and I booked it on the spur of the moment when I realised it was one of the few places that had accommodation left for the dates we had in mind. My nerves were gone that it would lashed rain for the few days and that we would be stranded there without the kids' toys but we were blessed that that didn't happen. And wow was I amazed at where we had stumbled upon!! It was almost like I was meant to go there.
Besides being a stone's throw away from karst landscape of the Burren, we were surrounded by so many things of beauty, it was hard not to keep the kids entertained. But more importantly, for me as a designer, it was hard not to be inspired!! The rugged landscape had my mind racing with new texture ideas…..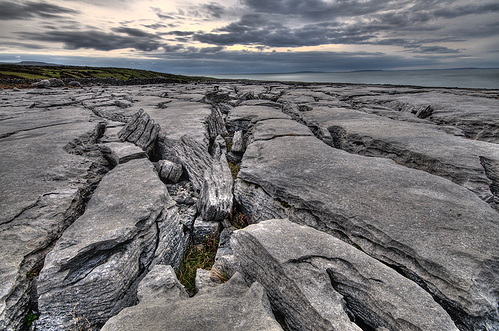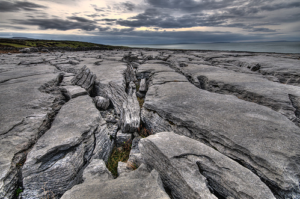 If that wasn't enough, we visited Poulnabrone (picture of the tomb by my husband!!) and it blew my mind and it kind of still does! It dates from the Neolithic period and it has revealed so much information to archaeologists about the lives and burial customs of Ireland's very first farming communities. Poulnabrone is classified as a portal tomb. "What does that mean?", I can hear you say 🙂 It means that the tomb has at least two large portal-stones that define the entrance to the tomb and a back-stone, which together support the very heavy stone that forms the roof. It is still not known how these massive stones were moved and put into position which I find MAD! I mean we have been able to piece together so many bits of information about all types of things that I'd expect that we'd know how these tombs would have been constructed. Irish Achaeology reckon that it probably involved a combination of wooden rollers, ropes and man and animal power. There's around 175 of these types of tombs throughout Ireland. So I think I might have to add the other 170 odd to my bucket list – YAY!
We were the only ones at Poulnabrone when we first got there. It felt like it was in the middle of nowhere which made it all the more special. As I approached the tomb, I got goosebumps (even though the kids were jumping from one rock to the next around the tomb and I thought they were going to split themselves!). There is an undeniable sense of something mystical about the site itself. I got the same feeling when I first visited Newgrange in Co. Meath and that sent me on a journey that has me now designing and creating jewellery that allowsthe light to shine through the pieces (see my Growing Home and Children of Lir collections).
I haven't been able to shake the magic of Poulnabrone and I have a number of ideas that I need to explore further in order to create a piece of jewellery that captures the spirit of this old Neolithic portal tomb…
See Tracy's designs meticulously crafted with love of Irish roots history & folklore here.