You may have seen recently on Twitter or Instagram a picture of Margaret Molloy wearing some of my jewellery. Looking great, as always! (both her and the jewellery :)) So how did this happen?
Well, I have always been a fan of those trying to start something special. I love investing in new ideas (including my own – you probably already know that I took a big leap earlier this year from the Actuarial world to work full-time on designing and making jewellery) and I have invested in kickstarter projects a few times. After all, Tracy Gilbert Designs wouldn't be here if another lady – Sinead Buckley Quinn, owner of the Irish Design Gallery and avid supporter of Irish designers – hadn't given me my first retail opportunity in her first gallery in Powerscourt House, Enniskerry. So when I heard about a #WearingIrish campaign to promote Irish designers by one of the queens of Social Media, I really hoped to be involved!!
The importance of Margaret Molloy's #WearingIrish campaign
Margaret Molloy is a Global Chief Marketing Officer (CMO). What sets her apart from others in her field? According to her LinkedIn profile – it's Grit, Grace and Gravitas and I tend to agree! Anybody tuned into social media has definitely come across this impressive lady on Twitter.
So if you don't know anything about Margaret or the #WearingIrish campaign, I think it's best to use her own words: "I enjoy fashion. I enjoy exploring the possibilities of social media for brand building. And I'm Irish. This March I'm combining all three passions in an effort to showcase Irish fashion. I'm aiming to put a spotlight on Irish designers by wearing Irish fashion, jewelry, and accessory brands in the run up to Saint Patrick's Day".
I was delighted to be one of the Irish designers to take part in this pilot especially given the calibre of amazing established and emerging Irish designers that Margaret was showcasing as part of the #WearingIrish campaign. All you have to do is look at Facebook, Twitter and Instagram with the hashtag #WearingIrish to see what I mean. To say I was honoured to be part of this campaign is an understatement. Like Margaret, I think Irish fashion is world-class and I pride myself on wearing Irish designers too. Manley and Jennifer Rothwell are my current favourites.
So what piece did Margaret wear?
Margaret wore my Growing Home pendant in Emerald green. Doesn't she look great wearing Tracy Gilbert creations 🙂
Here's another photo of Margaret on her holidays during the summer wearing her pendant.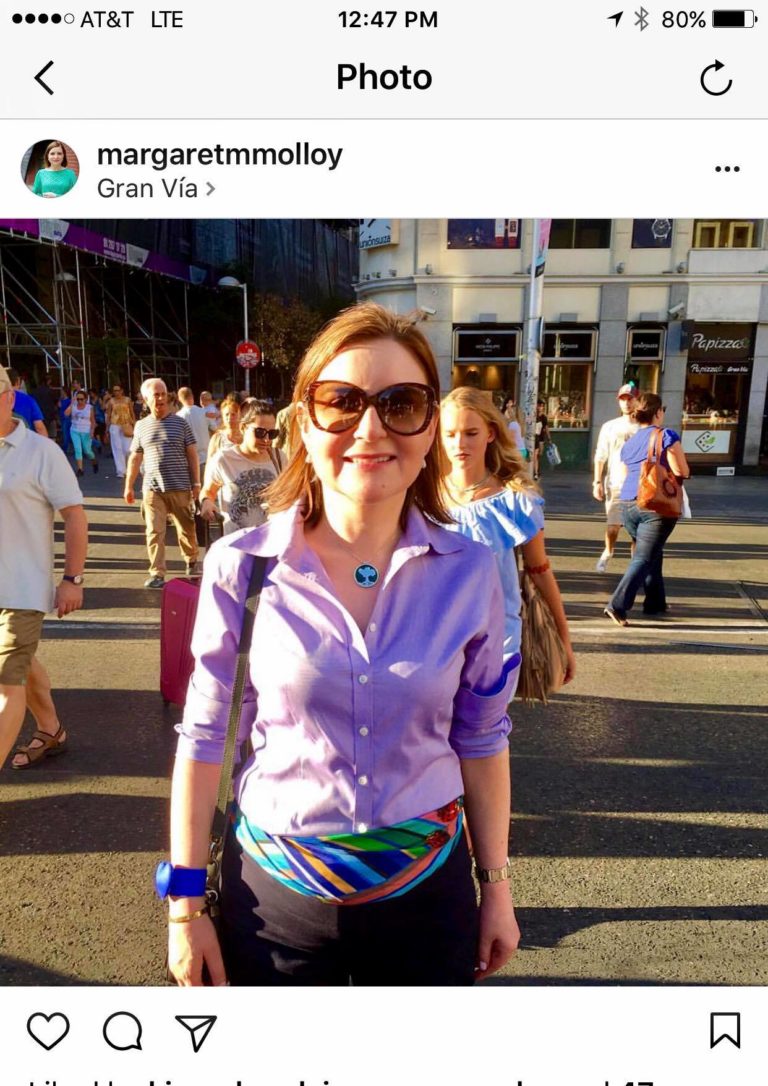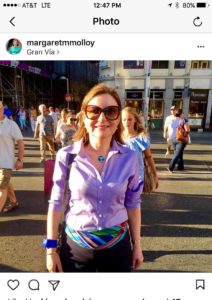 So what next for #WearingIrish
Margaret's own vision was to "Start a pilot, imagine a movement" – which I admire a lot. I believe that Margaret's pilot will expand year-on-year and that she is well on her way to getting the movement she imagined fully up and running.  Margaret will report back shortly on the success of the pilot – so check out her social media accounts: Twitter @MargaretMolloy and Instagram @MargaretMMolloy and follow #WearingIrish
And remember that we can all do our own little bit to support Irish Design and Fashion by supporting local businesses and designers…