Following on from the success at Showcase Ireland, I decided to exhibit at The Ireland Show in Secaucus, New Jersey in the US of A! What an experience…!!!
I was part of a group of businesses funded by Fingal Local Enterprise office and we represented "Fingal's Finest". I was the only business participating from Fingal with handcrafted Celtic jewellery and I was excited to get feedback on my pieces – in particular my Growing Home and Children of Lir collections.
Each day of the show started and ended with a bagpiper playing a traditional tune!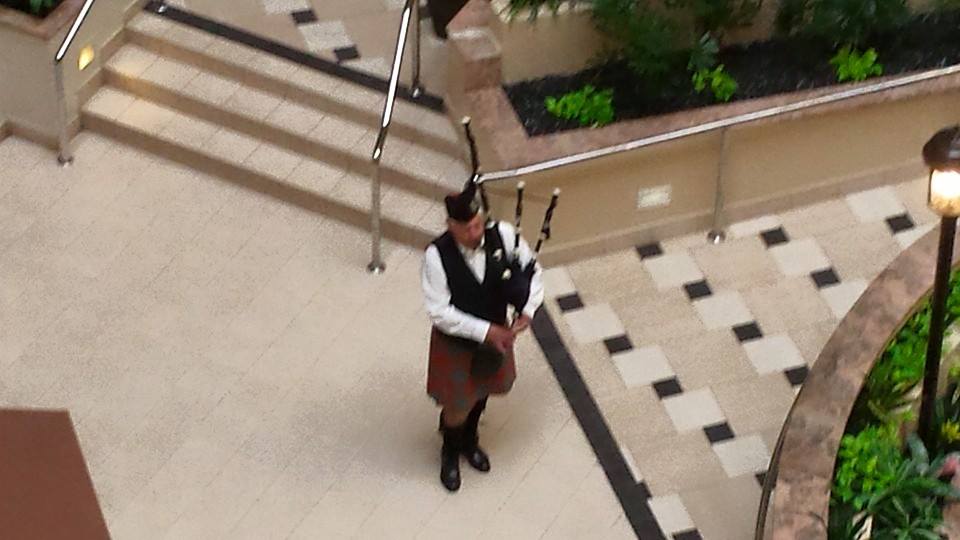 Flags for each county of Ireland hung over the atrium – but otherwise it was business as usual for other hotel guests. Many bewildered guests rambled the show trying to figure out what exactly was going on.
I met some truly lovely people at the show – both buyers and exhibitors. What amazed me most was that some of the buyers were almost 40 years in business and had attended the Ireland Show since it began. It became clear that many of these shop-owners were the lifeblood of the Irish communities in their area and were also responsible for the St. Patrick's Day parade (and some strangely involved in the best legs in a kilt competition!!). I could only stand back in awe of their dedication to keep the Irish spirit alive and kicking in small towns of America.
Overall, it was a tradeshow built on relationships with a lot of the buyers returning to the shops they had brought from for years and exchanged updates on how their families were keeping etc. It was a lovely atmosphere and I was delighted to start getting to know the buyers in this way.
I was also delighted that my pieces were received well and that orders were placed. I'll be busy over the coming weeks fulfilling these orders and look forward to updating my website with new US stockists………